Karila Hatsuse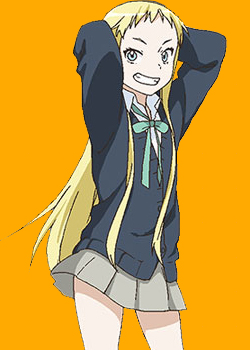 Date of Birth
December 13th, 1996
Family members
Aira Hatsuse (younger twin brother)
Voice actor
Ai Kayano
Serena Varghese

Karila Hatsuse (voiced by Ai Kayano) is a main character in Stella Women's Academy, High School Division Class C³. She has long blonde hair and wears different uniform from the rest of her friends. She is the trump card of Stella C³ club . Her eye color is light blue and her height is 159 cm
Personality
Edit
Karila is an upbeat girl whose combat style is highly unorthodox and aggressive. She relies on excellent tactical mind and reflex to get close to her opponents and defeats them in close quarter combat.
Combat Gear
Edit
Karila's primary weapon is a Tokyo Marui P90, which is very well suited to her aggressive tactics. Her sidearm is a Tokyo Marui Strike Warrior, an airsoft-only M1911 variant. Her eye protection and gloves are dark purple, making her the only member of the club who's colour doesn't match some other part of her. Also, when in full combat gear she wears a white t-shirt, unlike the rest of the team.
Relationships
Edit
Karila is very close to Sonora, thus often sees herself on bad terms with Rin who is Sonora's rival.
Memorable quotes
Edit